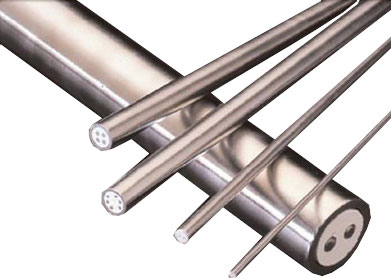 Mantel
Cables insulated with highly compact magnesium oxide. Widely accepted for any surface and highly resistant to temperatures, chemical agents and mechanical demands.
Available for any type of thermocouple cable (J, K, etc..) and in RTD's with both nickel and copper conductors.
Standard diameters: 1 – 1,5 – 2 -3 – 4,5 – 6 mm
Covered (Thermowell): AISI 304, AISI 316, INCONEL 600, etc.
Possibility of supplying thermocouples Mantel semi-elaborated of any diameter and length; this means with the hot welding point done (mass insulation or not) and 10 mm of "shaven" fur, all in order that the client may make good the final assembly.