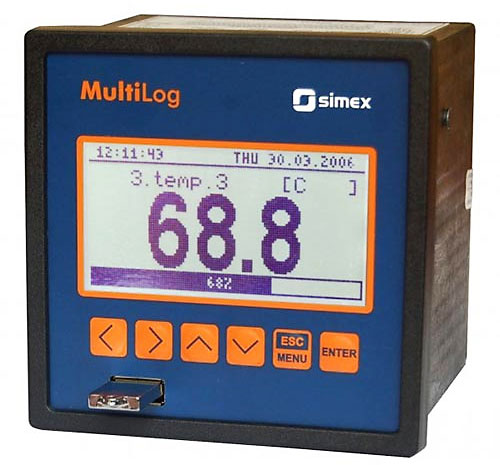 SRD-99
Graphic data recorder.
Up to 8 inputs 0/4 – 20 mA or Pt100/Pt500/Pt1000.
1 input on beginning of recording.
USB Host for data storage key.
RS-485 / Modbus RTU.
Graph display.
The affordable cost high performance SRD-99 is designed for the best visualization and temperature recording, pressure, humidity, level, pH, redox, current, etc. The equipment is fitted with 8 temperature inputs (P100/500/100) or standard current 0/ 4÷20 mA, a digital input, a USB port for data storage, communication ports RS-485 MODBUS RTU.
In addition the SRD-99 counts on an internal memory of 2Mb capacity (500,000 data captures) and 8 MB in the version with USB port (2000 000 data recordings). The analogical internal digital converter has a resolution of 16 bits, which enables us to achieve the highest precision in the readings. Furthermore we offer alpha-numerical text for each one of the channels. The programming is very straightforward and intuitive, and can be done both from your keyboard or software.
The graph representation can be selected in various ways, numbers with display digits of 18 mm and line bar representation, visualization of the 8 inputs values on the screen itself, history of the process in time, etc.
The software Loggy Soft included with the equipment allows us to set up the equipment either for visualization, filing and printing the stored readings in the internal memory of the SRD-99.