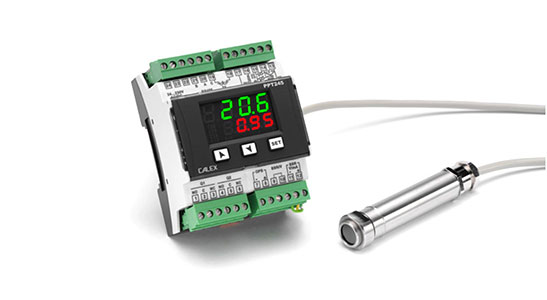 Microprocessor controllers PPT245
Regulator to be set up on Din track
It is fitted with an analogical input and 18 inputs types (TC,RTD,NTC, ETC). Source from 24 up to 230 Vdc. This equipment is specially designed to connect the PyroEpsilon model (infrared sensor) with which we can adjust the emissions.
Assembly: Track Din
Source: 24 up to 230Vdc
Consumption: 3W
Inputs: Thermocouple (J,K,R,S), RTD, Ni100, PT1000, PT500, PTC1K, NTC10K, 0-10v, 4-20Ma, potentiometer.
Outputs: 2 relays ( 5 A)+ 1 logical SSR / 4/20 Ma and 0-10 V
Control: ON-OFF, PID,Auto-tuning
Precision: 0.5% for TC/RTD, 0,2 % for V and mA.